Music is the heart of our worship services. With the Praise Band at the 8:30 a.m. service and the many choirs at the 10:30 a.m. service, you will be filled with the spirit hearing beautiful voices and musical instruments to reinforce the message and our ministry. Would you like to join one of our music ensembles? Please fill out an interest form!
Wide Awake Band
The Wide Awake Band provides musical accompaniment to the 8:30 a.m. contemporary worship service every Sunday, with keyboard, drums, guitars, and vocals to lift your spirits and get your feet moving!
First Presbyterian Church Choir
The First Presbyterian Church Choir sings during the traditional worship service at 10:30 a.m. on Sunday mornings. Singing a mix of classical and modern anthems, the choir creates beautiful harmonies that enrapture the heart and soul. In 2006, the choir released its first CD, An Open Door. Listen to the tracks.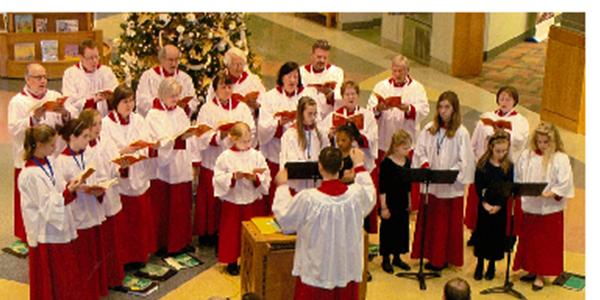 The Choir School
The Choir School of First Presbyterian Church begins vocal training when a child enters the 2nd grade. Choir School training continues through high school. There are many opportunities beyond learning to read music and tune-matching skills when participating in The Choir School. Choir School children and youth enjoy attending summer music camps, performing in special concerts, leading the congregation in Sunday morning worship, and the camaraderie that comes with being in The Choir School program. Contact Director Robert Nicholls through the church office to arrange an audition or to get more information.
https://www.facebook.com/FirstPresEvvChoirSchool/
The Choir School of First Presbyterian Church is affiliated with the Royal School of Church Music in America (RSCMA) and gives children and adults a unique experience in the English Cathedral tradition.
Flute Choir
The Flute Choir brings together flautists of every age and ability in an ensemble that leads the worship of God's people. From celebratory sounds to reflective melodies, the Flute Choir adds to worship.
Handbell Choir
Our handbell choir is made up of children and youth from elementary school to high school. Children begin in the second grade by learning how to play the handchimes. Our Chime Choir and Handbell Choir play during worship once a month. We have four octaves of Malmark handbells, and three octaves of Malmark Handchimes.
Midday Concerts
At the beginning of the pandemic and the lack of in-person gatherings, Music Director Robert Nicholls began offering a mid-day live concert on Thursday afternoons. You can visit our YouTube channel for the full playlist. Now that we have returned to in-person worship, check our Events Calendar for upcoming concerts in our sanctuary!
Keyboard Instruments
We are blessed to have some beautiful keyboard instruments in our sanctuary, including a grand piano, harpsichord, Brunzema organ, and our magnificent C. B. Fisk Organ Opus 98. On March 19, 2023, Robert demonstrated many of our keyboard instruments in a special concert: