First Pres strives to engage with the broader community in Evansville and the surrounding areas as well as build community among our members and friends.
One God, One Community
In 2014, Rabbi Gary Mazo of Temple Adath B'nai Israel, Dr. Mohammed Hussein of The Islamic Center of Evansville, and Rev. Kevin Scott Fleming of First Presbyterian Church joined together to form One God, One Community — a program to help foster understanding and appreciation for different faith traditions. In 2017, Father Godfrey Mullen of St. Benedict's Cathedral joined the coalition. The One God, One Community program offers educational and inspirational seminars six times a year, rotating among the various member houses of worship on topics such as Social Justice, Theology, and History. The meetings are open to everyone, and all are encouraged to attend.
Presbyterian Women
Presbyterian Women is a group of members and friends of the church who enjoy fellowship, provide service to the community, attend luncheons with various guest speakers from our community, and learn about and embrace Christ's love through Bible studies. Presbyterian Women offers an excellent opportunity for women to get to know one another better on a social and spiritual basis.
Presbyterian Women's Purpose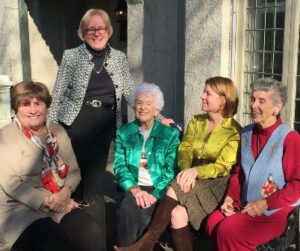 Forgiven and freed by God in Jesus Christ, and empowered by the Holy Spirit, we commit ourselves:
to nurture our faith through prayer and Bible study,
to support the mission of the church worldwide;
to work for justice and peace, and
to build an inclusive, caring community of women who strengthen the Presbyterian Church (U.S.A.) and witness to the promise of God's kingdom.